{Project} Wednesday: Paper Crafter Crayons
15 Wednesday May 2013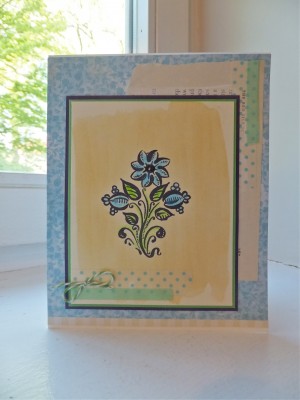 Today I'm super-excited to announce the launch of my new weekly show on You Tube!
(Oh, has this been a learning experience—in the best possible way!)
Every Wednesday, I'll post a new instructional video on You Tube. Each segment is 5-10 minutes long and  teaches a specific paper crafting technique. Topics include reverse stenciling, punchinella, watercolor crayons, packing tape transfers, using Distress Stain, Gelatos and so much more.
Today's segment is all about Paper Crafter Crayons from Faber-Castell—I used them to color this Judikins stamp before covering it with Antique Linen Distress Stain. The crayons act as a resist. They're super-vibrant, yet lend a pretty, vintage feel when combined with the stain. I absolutely love them and I'm so excited to show them to you!
So come on over—just click here to watch! While you're on You Tube, you can subscribe to my channel, Studio SN, to stay up on all the new segments each week.
Happy Wednesday!