{Project} Wednesday: Peel-Off Sticker Card
17 Wednesday Apr 2013
Yesterday I got a super-fun package in the mail from Elizabeth Crafts…inside were some beautiful metallic gold peel-off stickers. I haven't worked with peel-offs for awhile now and as soon as I saw them, I remembered how much I like working with them. They're detailed, but really easy to use, and I think of them as a shortcut to get the effect of gold heat-embossing.
Today I combined this pretty tulip peel-off sticker with Distress Markers. Coloring inside the sticker is really easy because the raised edges will guide your pen. Because I wanted a soft effect, I spritzed the paper with water so the marker colors would bleed. After blotting, I have a very pretty watercolor effect. I then added some Distress Stain to complete the antique look.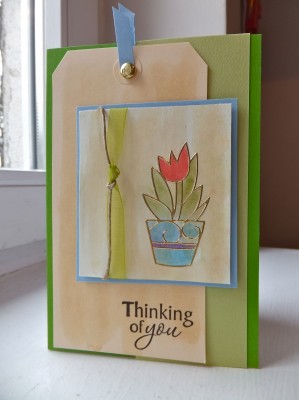 Supplies:
– Flowers in Pot sticker sheet (Elizabeth Craft)
– Distress Markers (Ranger): Peeled Paint, Broken China, Dusty Concord, Barn Door
– Distress Stain (Ranger): Antique Linen
– Stamp: Heartfelt Greetings set (Hot Off The Press)
– Ink (Ranger): Archival Black
– Cardstock: Bright green, light green, blue, white
– Manila tag
– Sheer green ribbon, twine
– Gold brad
– Water spritzer, dry cloth
– Foam tape
Instructions:
1. Apply the sticker to a 3″ x 3 1/4″ piece of white cardstock, placing it to the right side. Color inside the lines with Distress Markers. Spray with water, then blot dry. A little water will lighten the color a little; more water will make it very faint. You can then add more marker color, but you'll also want to make sure not to overwork it since the paper can start to break down.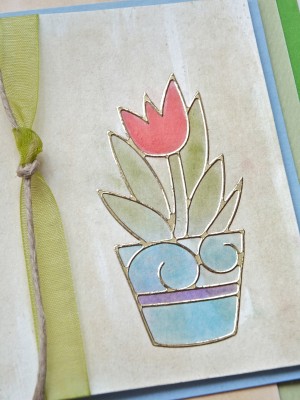 2. Streak with Distress Stain.
3. Hold together a piece of sheer ribbon and a piece of twine; tie a knot and wrap around the piece. Use foam tape to mat onto a piece of blue cardstock.
4. Streak a tag with Distress Stain and stamp the sentiment with black at the bottom. Thread a  strip of blue cardstock through the top of the tag and add a gold brad.
5. Make a 4 1/4″ x 6 1/2″ bright green card; add a 2″-wide strip of light green cardstock on the right side. Add the tag and the sticker focal.
Happy Wednesday!