{Project} Wednesday: Shimmer Sheetz Card
24 Wednesday Apr 2013
I'm kind of excited about Shimmer Sheetz.
Shimmer Sheetz are not new, but they were new to me and I wanted to share a quick and easy way to use them for cardmaking.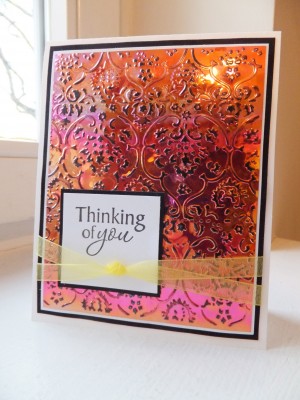 Shimmer Sheetz are iridescent, metallic plastic Mylar—yes, like balloons, but thicker and sturdier. Sturdy enough, in fact, to be embossed with a Cuttlebug or other embossing system. The result looks like embossed metal to me, but it's lighter. You can use them as is in all their shiny glory, or distress and alter them for a unique look.
For this card, I skimmed a black StazOn inkpad over the raised embossed areas to get an instant vintage look. With a background that's full of color and shine, one doesn't have to do much more than add a ribbon and card sentiment in order to get a design that's great for all occasions.
Materials:
– Shimmer Sheetz in Pink Iris from Elizabeth Craft
– Embossing folder (Cuttlebug Textile Texture); embossing machine (Cuttlebug)
– Stamps: Heartfelt Greetings from Hot Off The Press
– Cardstock: White, black
– Sheer yellow ribbon
Instructions:
1. Emboss the Shimmer Sheet; trim to size and skim the surface with a StazOn inpad.
2. Mat on white, the black cardstock. Tie a knot in a piece of sheer ribbon, then wrap around the matted piece. Glue to the card front.
3. Stamp the sentiment on white cardstock and mat on black. Tuck underneath the ribbon and secure with glue.
That's it: Super simple!
Happy Wednesday!