{Project} Wednesday: Spray and Stencil
03 Wednesday Jul 2013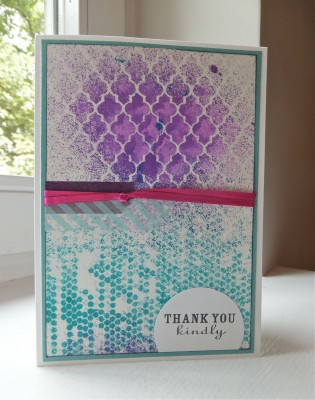 This week on You Tube I'm once again getting inky fingers with the help of Dylusions color sprays! I love the way spray works with stencils, so I put my craft sheets and recycled boxes to good use (basically carpeting my table with them) and sprayed away.
In the video, I talk about my three spraying tips. For some of you spritzing pros, they might sound awfully simple (especially the bit about making sure the nozzle is pointed at your paper!) but I've made quite a few mis-spritzes in my time so I thought I'd pass on the tips before anyone else experiences blobs, wayward color and flooded paper.
I combined two colors for this card: Vibrant Turquoise and Crushed Grape. The two stencils are Tiny Circles (I looooove this one) and Quatrefoil, both from The Crafter's Workshop. I think the stamped half-circle is a fun way to add a curve to the rectangular shapes on the card and emphasize the circles of the Tiny Circles stencil.
Hope you can pop by Studio SN on You Tube and check out the video! If you're in a stencilly mood, scroll down the video page to watch #1 and #2 in the video series.
Happy Wednesday!