{Project} Wednesday: Tape Lifting with Mica Gloss
07 Wednesday Aug 2013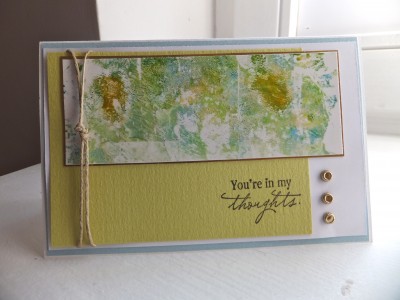 This week in Studio SN on You Tube…Tape Lifting with Mica Gloss!
This week we're using standard packing tape to "lift" color from a plastic palette. It's super easy to do and gives a different effect every time!
(Yes, I love packing tape.)
Supplies:
– Clear packing tape (mine is about 2″ wide)
– Mica Gloss from Judikins: I used Green, Gold and Blue
– Heartfelt Greetings stamp set (Hot Off The Press)
– Cardstock: White glossy, blue, lime, gold
– Gold brads
– Hemp twine
– Piece of scrap plastic (sheet protector, plastic packaging, etc) to use as a palette
– Brayer
– Black inkpad
Here's how:
1. Squeeze a few drops of each Mica Gloss color on your plastic palette. Use the brayer to spread out the color. Cut off a piece of packing tape, then press into the Mica Gloss. Lift and immediately apply the tape to a piece of white glossy paper.
2. Trim the white paper, then mat on gold cardstock. Layer on lime cardstock. wrapping with hemp twine. Mat on white and blue cardstock as shown, adding gold brads. Center on a blank card.  Stamp your sentiment.
Even better, you'll still have a ton of Mica Gloss on your plastic palette. Set it aside if you can't use it up now…although I love to do lots of tape-lifted pieces so I always have some on hand. And as I mention in the video, you can "rescue" imperfect pieces by punching out sections. I like to use circle-punched pieces for jewelry, but you could also use them on papercrafts!
Want to watch me demonstrate this technique? Then pop on by Studio SN on You Tube! Hope to see you there!
Happy Wednesday!