{Project} Wednesday: Watermark Resist
27 Wednesday Nov 2013
Today on Studio SN on You Tube: How to Do a Watermark Resist!
I learned this technique from the fabulous Claudine Hellmuth and I'm super excited to share it with you. It's easy, and a great way to incorporate paints and stencils into your cardmaking.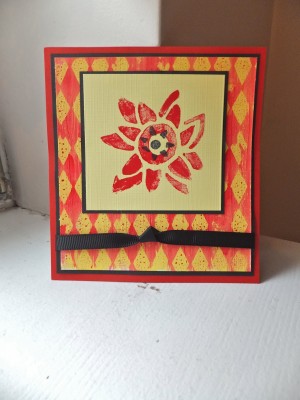 What you'll need:
– Claudine Hellmuth Studio line paints: Dash of Red, Yellow Pastel (Ranger)
– Watermark Resist Re-inker (Ranger)
– Harlequin stencil (The Crafter's Workshop)
– Bloom stamp collection (Ranger)
– Cardstock: black, red, yellow, white
– Jet Black Archival ink (Ranger)
– Cut & Dry Foam (or blending tool)
– Black ribbon
– Paintbrush
– Water
How to do it:
1) Paint your background cardstock with a couple of coats of yellow paint. Let dry, then place the harlequin stencil on top.
2) Squeeze some reinker onto a piece of Cut & Dry, then apply it through the stencil.
3) While the reinker is still wet, paint on a very watery wash of red paint. Let dry (or speed up with a heat tool) and blot off excess reinker.
4) Trim and mat on black cardstock, then wrap with a piece of black ribbon. Mat on black cardstock and glue to a red card.
5) Use your finger to apply red paint to the flower image, then stamp on yellow cardstock. Stamp the flower center with black ink. Mat on black cardstock and add to the card front.
Want to see the video tutorial? Then stop on by Studio SN on You Tube!
To see more of Claudine, be sure to stop by her blog and her website. Thanks again, Claudine!