Resin Jewelry
Discover the fun of resin with the How to Make Resin Jewellery instruction book from Search Press!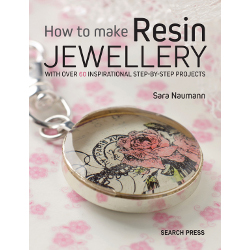 You'll learn how to use two-part resin epoxy to create easy, fabulous jewelry. I'll walk through the process of mixing, pouring and getting rid of those pesky air bubbles—then we'll explore fabulous techniques using paper, inclusions, glitter glue, paint, nail polish and more. You'll be inspired by the incredible jewelry you can create with resin!
I'm using ICE Resin® for this book, but all techniques apply to other two-part epoxy resins in the craft market.
How to Make Resin Jewellery is available at craft stores and online at Search Press.