{Project} Wednesday: Spectrum Noir Pens and Acetate
11 Wednesday Dec 2013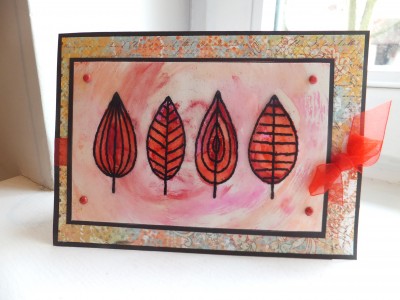 Today on Studio SN on You Tube: Spectrum Noir pens and acetate!
This technique is a great one for getting a unique, tactile effect for your handmade cards. I call it a craft sheet swirl—it's fun, easy and gives you a different look every time. And, you can use it on acetate as I've done here or on cardstock. The fun part about the acetate is that you can then stamp it and color the reverse side with your markers, too!
One note: The Crafter's Companion acetate is heat-resistant, so you can heat-emboss on it. (Don't try to do that with regular acetate as it will warp and melt.) If you can't find heat-resistant acetate, just skip the embossing part and stamp it instead.
Ready?
What you need:
– Spectrum Noir pens: CR8, CR10, DR1 (Reds set, Crafter's Companion)
– Blending solution (Ranger)
– Heat Resistant Acetate (Crafter's Companion) or regular acetate
– 4 Leaves stamp (Judikins)
– Versamark ink
– Que Sera Sera patterned paper pack (K&Co)
– Craft sheet (Ranger)
– Cardstock: Black, cream
– Black embossing powder, heat tool
– Red brads
– Sheer red ribbon
– Hole punch or paper piercer
Here's how to do it:
1) Scribble CR8, CR10 and DR1 on your craft sheet. Add a tiny bit of blending solution. Place your acetate into the mix and swirl. Lift and repeat if desired. Let dry, then turn over and stamp and heat-emboss the leaves.
2) Turn the piece over again and color in the leaves. Let dry, then layer on a piece of cream cardstock. Mat on black and secure with red brads.
3) Form a 7 1/4″ x 5 1/4″ card from black cardstock. Cut a piece of patterned paper slightly smaller and glue to the card front, then wrap with red ribbon. Secure the embossed focal on top.
That's it! Want to see the video demonstration? Then pop on by Studio SN on You Tube!