Stitches UK: Report from the Trade Show
21 Friday Feb 2014
Last weekend I was in Birmingham, UK for the ICHF (Craft Hobby + Stitch International) trade show, otherwise known as Stitches. This is my favorite trade show to attend and I was really looking forward to seeing the latest and catching up with friends and colleagues in the UK.
(I was also looking forward to speaking English, reading the newspaper, and being able to read all the signs. And going to Boots. And Marks & Spencer Simply Foods. And WH Smith, where I bought six books and eight magazines and then had to figure out how to get them home. But anyway.)
Ready for a few photos?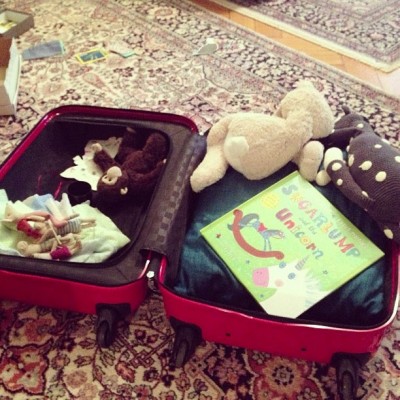 First is packing for the show and it's not the quickest process when your three-year-old wants to help. So here I am with a pillow from the couch plus an assortment of stuffed animals. And Sugarlump and the Unicorn, which is actually a pretty good read.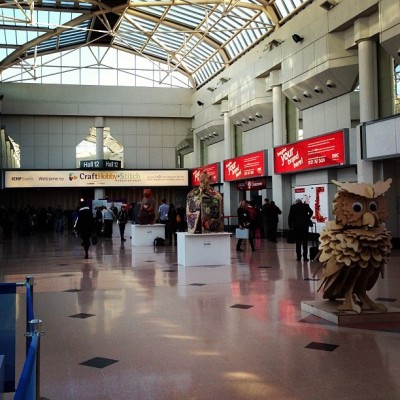 Once repacked and in Birmingham, it's time to head to the NEC for Day One. The foyer is looking empty since everyone is inside already, bright and early. I thought that owl was amazing, don't you?
But on to the show floor–first stop, the Crafter's Companion booth. As you know, I'm addicted to Spectrum Noir alcohol pens, the Spectrum Noir refills and their Neenah Classic Crest Cardstock (which I hoard like they might stop making it). This spring they'll release Spectrum Noir Blendable Pencils, which give the most amazing depth and dimension to stamped pieces and can be used with the pens for incredibly rich color. The fabulous Leann Chivers demo'ed them for me and it took about two seconds before I was sold on them.
Forgive the photo quality below—but I wanted you to see one of the pencil sets. They're in color groups (here are Primaries) and come in a really nice storage tin.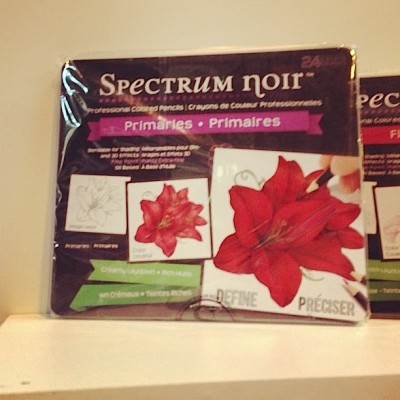 Then I stopped by the Impress Art booth. They have fabulous supplies for metal stamping. Look for an upcoming article on these in Scrap & Stamp Arts, and a video on Studio SN. And if you don't make jewelry, never fear—the stamped metal pieces make gorgeous card focals or charms for handmade books.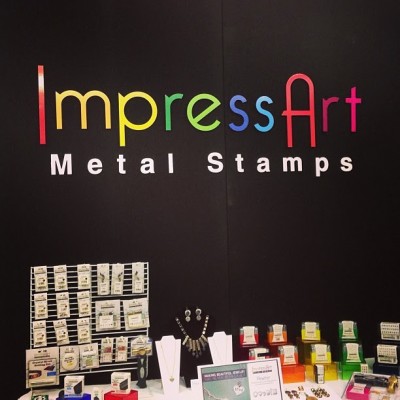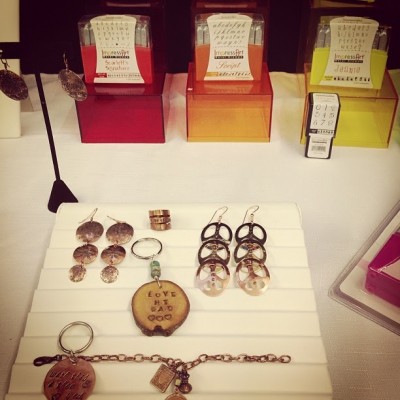 And yes, these metal stamps are much different than the ones we all had about 10 years ago—you know, the ones that were actually used on machinery and came in flimsy plastic boxes covered in grease? I remember those days and now I'm excited for something designed specifically for crafting. (Side note: The always-inspiring Margot Potter—aka The Impatient Crafter—is part of the Impress Arts crowd, too.)
Onward!
Paper Artsy makes some of my super-extra-all-time-favorite stamps. To say I loved them at first sight about a million years ago probably sounds dramatic, but it's so true. Their designs range from quirky to elegant, hand-carved to illustrated, sentiments to imagery—and everything is on the cutting edge. They are really high-quality red rubber cling, and made in the UK. Plus Leandra and Mark are super-nice people and that goes a long way in my book. So of course the Paper Artsy booth was a must for me.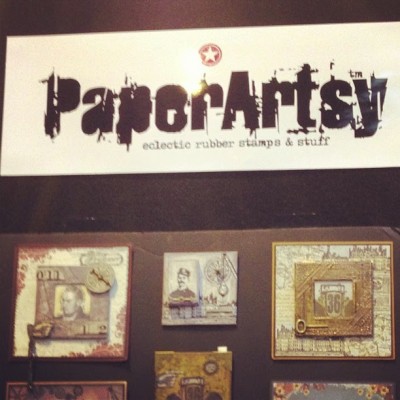 Beautiful art examples with Paper Artsy stamps.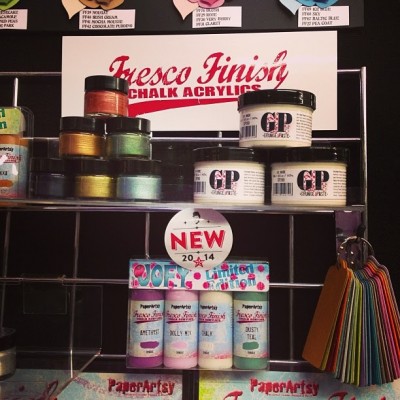 They have stamps—and Grunge Paste, Fresco Chalk Paint and Treasure Gold. Yes, you'll spend a fortune with them…and love it all.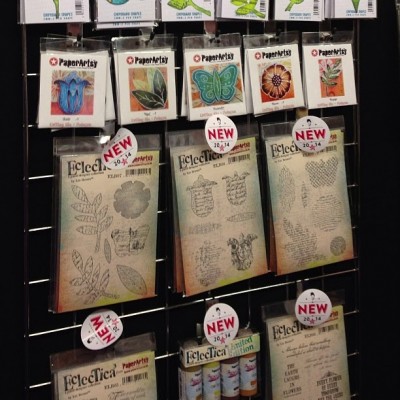 Lin Brown designs stunning stamps for Paper Artsy—and now she has chipboard pieces, limited edition chalk paint and cutting dies. Plus quote stamps! (Yay!) I adore Lin's style and I'm super-excited to see more from her. I'll take one of everything, please.
The talented Lynne Perrella also has stamps with Paper Artsy. Lynne's style is probably familiar to Somerset Studio readers—her work is so different from anything else out there; it's what I consider avant-garde with the benefit of being entirely useable. And you wouldn't believe the kind of detail you get when you stamp these. *swoon*
(Last year I released 8 stamps with Paper Artsy under the Eclectica line; you'll see more new designs from me later this year when I can look up from this DVD project!)
Then off to meetings—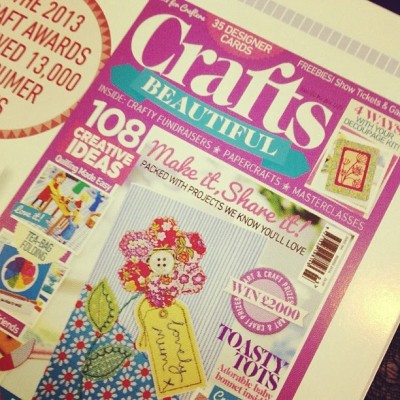 I have a regular column with Crafts Beautiful magazine, so I met up with the lovely editor Sarah to talk about the column and upcoming topics. We've got some fun in store! Even better, I spoke with the editor of their sister publication, PaperCrafter, and you'll probably see some more designs from me in there too!
In between products and project meetings, you inevitably end up having some fun at the show! Jayne and Kathy and the rest of the Personal Impressions group had brought their own entertainment, as you can see—and happily posed for me here! I've known them both for ages, and Kathy is the one I always bug to send product samples for my magazine articles. I think our entire conversation revolved around chocolate, after Kathy explained to me about Dame Edna.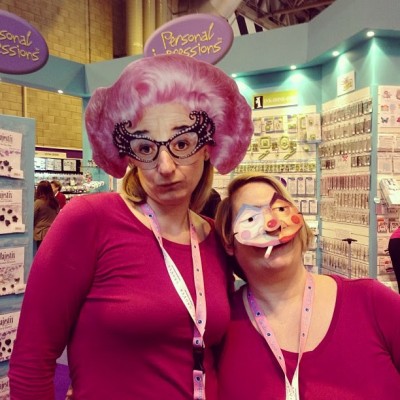 Personal Impressions also distributes Spellbinders machines and dies in the UK, so I was really happy to see the lovely Kim Hupke, who helped me make this gorgeous necklace in about two seconds: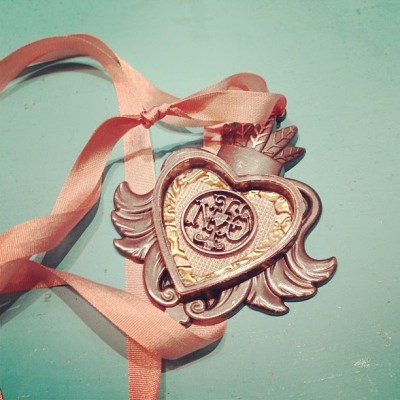 It's a Spellbinders heart cutting die, metal, plus fabric (the Grand Calibur cuts fabric!), a charm and a stunning Gilded Life Heart Bezel that I sanded a bit per Kim to show the coppery undertone. String it on pink silk ribbon and it's done. (Note: I have worn this every day since the show and it never fails to make me feel fabulous.) And yes, it literally took two seconds to make.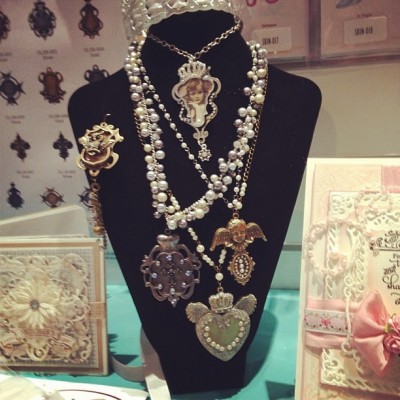 More Gilded Life jewelry from Spellbinders. But wait–if you don't make jewelry, you could easily make one of these pendants and pop it in a deep shadow-box frame, then have insta-vintage home decor.
I'm not enabling, I'm helping.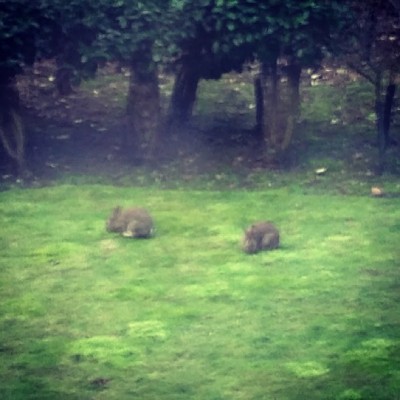 Okay, these little guys were just too perfect as Anna thinks of England in terms of Paddington Bear and Peter Rabbit. So I had to send her a photo of the rabbits (Flopsy? Mopsy?) munching the grass outside the hotel. Better the rabbits than a bear, frankly.
Then back for more crafting!
I'm a big WOW Embossing Powder fan. Now, I know embossing powder is a staple supply for most of us, but WOW is some serious color fun—this is not just about clear and black, my friends. WOW is neons, pearlescents, opaque, glow in the dark, metallic and more. And not just for cards, either. See Marion Emberson's big green ring? That's embossing powder, mixed with Melt-It. Yes it is fabulous, and yes I will share Marion's technique with you in upcoming articles. And you can click here to see how Marion did it.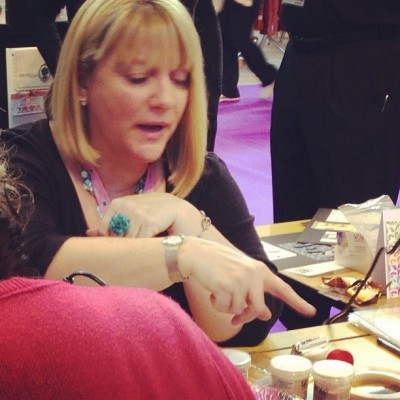 Then back to home it was. The UK is not far from Poland but it's a 7-hour trip nevertheless. That's fine—the layover in Frankfurt gave me time for some of this: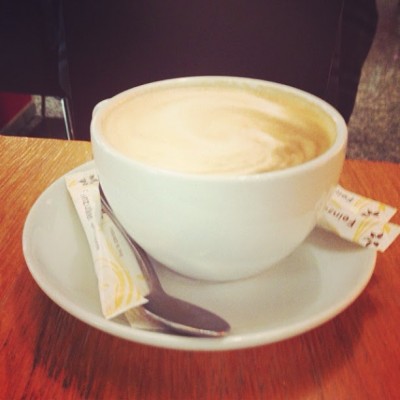 And to read some of these: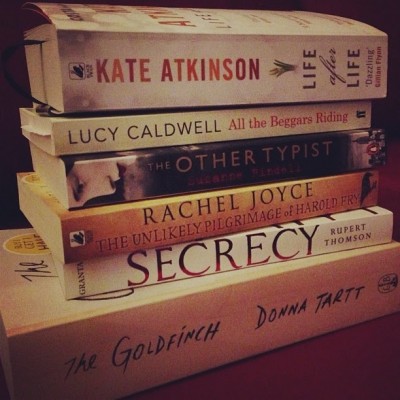 (Life After Life strongly recommended!)
And then I came home to this: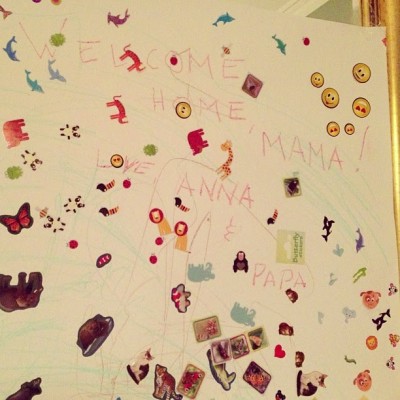 (It's huge—and has about every sticker you can imagine. I kind of think Papa had some fun here too.)
And this. Yes, it's back to work on the DVD!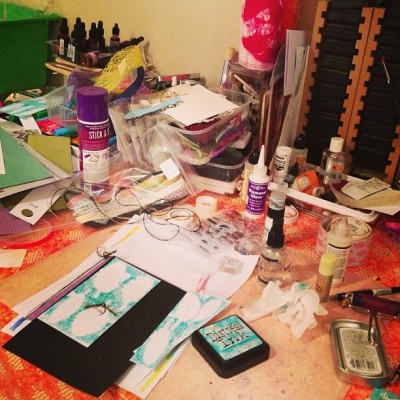 Hope you enjoyed the trip! Happy Friday!