Studio Snapshots
28 Monday Jan 2013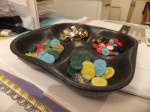 These little styrofoam-y trays are from the grocery store—each quadrant usually holds an apple or an avocado or some other piece of fruit or easily-damaged vegetable. Normally I like to buy my fruit and veg unpackaged, but sometimes I don't have a choice (avocados just don't grow in Poland in January) and so in that case, I try to reuse the packaging however I can.
This tray is ideal for holding groups of things in one place. I really like it when I'm making jewelry, since I can keep components separate, but in one area so they're not rolling all over the place. And if/when I get interrupted, everything stays in its little section and I can pop the tray out of reach to keep it away from small, curious toddler hands. It's about 7″ square, so it doesn't take up a lot of space. And it's actually pretty sturdy (I guess to account for handling in shipping fruit) so this particular tray is one I've had for quite awhile now and it's in really good shape.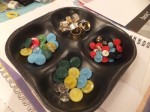 I keep other trays on my desk to hold things like brads and other small embellishments in one place while I'm working. Otherwise they have a tendency to roll away!
And I feel a bit better about keeping one more item out of a landfill.
Happy Monday!