Studio Snapshots: Kick Start Art Journaling Review
05 Monday Aug 2013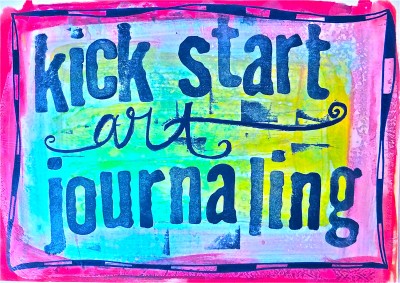 Last week I got a great email from an industry colleague, Judi Kauffman, who reviewed Kick Start Art Journaling for her new column, Discoveries! on the website Scrapbooking.com.
Judi took four classes from three teachers (Julie Fei-Fan Balzer, Carla Sonheim and me) and said: "Sara, Carla and Julie are terrific teachers – talented, generous, organized, and easy to understand." I am absolutely honored to be put in the same category as Julie and Carla and since I've respected Judi's writing for years, I was really thrilled to read her review.
Judi doesn't reveal the details of the classes but does say: "I can tell you that I worked in places other than my studio, took more photos than usual, did online research about a personal hero (Barbara Jordan), and absolutely LOVED letting someone else be the teacher for a change!" She adds, "All of the classes were worth well more than the cost of the tuition."
A new session of Kick Start Art Journaling begins each Sunday. The class is 6 weeks long; each Sunday you get an email from me with that week's lesson. You'll have a PDF of the lesson plus a video where I go into the assignment in more depth and share my pages with you. It's $15.00, which I think is a pretty great value!
If you'd like more info, pop on over here to learn more and sign up. I'd love if you joined me! And if you'd like to read Judi's article, visit Scrapbooking.com and check out the Discoveries! column.
Happy Monday!