Studio Snapshots: The New Label Project Jewelry-Making Spree
06 Monday May 2013
I sell my handmade jewelry in a boutique in Amsterdam called The New Label Project (often called simply TNLP). This is a very fun shop owned by one of the coolest people I know, Giulia Bessone, who possesses an amazing talent for putting together clothes and accessories. Her background is in fashion, plus she's Italian, so that may be part of it. 🙂
Last week was all about making a new batch of jewelry to send over to her for my box at the store. I was on an Ice Resin blitz, making tons of bezels for earrings and necklaces, which you can see here in various stages of store preparation. First I make the bezels and put them on ear wires, then I make all the little earring cards you see here. The earrings are put on the cards, put in plastic bags, then priced and labeled so they're ready to go into my box at the store when Giulia unpacks them.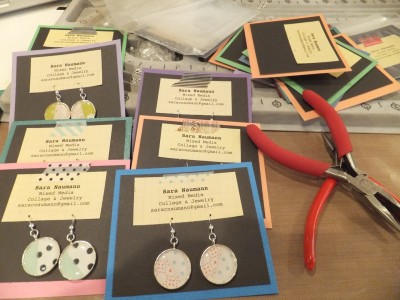 This spring's "look" features a lot of washi tape—I love the designs, and how you can use just a little in a bezel to create a fresh, pretty style that has pattern and dimension but doesn't take attention away from the person wearing it. And these bezels are bigger than what I normally make for earrings: 20mm in diameter, so it's also a good experiment in making something slightly different. These earrings will be the first of this style that I'll sell, so I'm curious to see how they do!
To read more about The New Label Project, click here for a visitor's review!