Talking with Teachers: Donna Crispin
12 Wednesday Sep 2012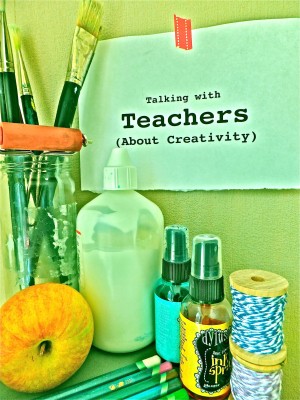 In this series, Talking with Teachers, you'll meet art and craft instructors from around the world. We'll take a look at their artwork, peek into their creative process when it comes to designing and developing workshops, and—of course—check out their class lineup.
This week I'm talking with Donna Crispin, who has lived in some of the most beautiful places in the western US, and now lives in my hometown of Eugene, Oregon. She creates stunning baskets, and woven figures—some mythical, some serious, some playful—as well as rattles, jewelry, masks and more. Even better, Donna teaches people how to make these gorgeous and unique pieces of art. She also says that although she is now living in an urban area, her pieces often reveal the spiritual and physical connection she has developed.

You can find more about Donna and see her beautiful work at her website.
What classes do you teach, and where? I teach basketry and other weaving techniques in Oregon and Washington, mostly. I do travel to other states when requested.
At Art & Soul Portland, Donna will teach workshops on several different techniques, and her classes are:
Miniature Sweet Grass Moccasins – Friday, October 5
Woven Sari Ribbon Pouch or Lavender Sachet – Friday, October 5 (evening)
Knotless Netting– Saturday, October 6
Undulating Sea Grass Basket – Sunday, October 7
Donna's classes are super-popular, and many at Art & Soul are full already—so if she's teaching in your area, you'll want to grab a space fast.
How did you get into teaching? A friend knew that I was weaving, and asked me to show her garden group how to make a basket.
What is your creative process for developing a workshop? Do you start with the event details, or fit a project idea into the workshop parameters?  The latter. I have a notebook full of workshop proposals. I can offer beginner to advanced level workshops, 1/2 day workshops, full day, multi-days.
Say you're on a deadline and stopped for ideas. What do you do? This has never happened to me! I have so many ideas swimming around in my head, waiting to emerge I don't have enough time!
How has teaching impacted or affected your sense of a creative community, or tribe? Is that community necessary to you? I live in a small town, and there are not a lot of basket weavers here. Teaching gives me the opportunity to meet other people with similar interests. I enjoy learning about their artistic passions; I'm always in awe when I see how talented and gifted people can be.
Say someone was interested in taking art/craft/sewing classes but unsure where to start. What would you recommend? My town that has a Craft Center at the University. They offer an amazing array of craft workshops at reasonable prices. It's a great way to try out something new.
How is the teaching process a creative one in itself? Students often come up with new techniques, and many new ideas.
Do you still get butterflies before you teach? Yes! I've been teaching workshops since 1987, and I still get nervous. However, once I get to know the group a little bit, then I calm down.
Is teaching your main job, or do you have another occupation? I have a part-time job as a teacher's assistant at a charter school.
Do you take classes? Yes! I will never stop taking classes. I love to learn new techniques, and I also observe how other teachers teach.             
Thanks, Donna, for sharing your creative insights with us! If you're interested in Donna's classes at Art & Soul in Portland, be sure to check out their website. And to learn more about Donna and to see her work, visit her website.