Talking with Teachers: Sandra Duran Wilson
22 Wednesday Aug 2012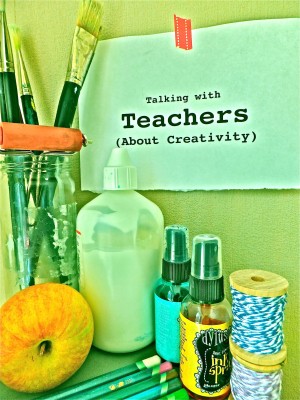 In this series, Talking with Teachers, you'll meet art and craft instructors from around the world. We'll take a look at their artwork, peek into their creative process when it comes to designing and developing workshops, and—of course—check out their class lineup.
This week I'm talking with abstract collage artist Sandra Duran Wilson, who says: "My mixed media paintings create a narrative between science, art, and spirit. I am intrigued with the science of the creative process and equally so by the mysteries of the spirit….My background in science combined with my studies in shamanism and travels in Mexico and South America have played key roles in shaping my story that I tell." Sandra lives in Santa Fe, New Mexico. You can find more about Sandra and see her richly layered work at her website. And be sure to check out her blog because she shows photos of absolutely stunning work—and gives information about the creative process of each one.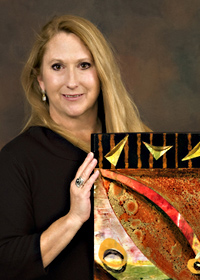 What classes do you teach, and where? 
I will be teaching Transparently Transferred, Fun with Faux Encaustics and Tango with Acrylics at Art and Soul in Portland this year, and in Virginia Beach next year.
I teach acrylic painting techniques, transfer techniques, faux encaustic, metal leaf, alternative surfaces for painting, collage and composition. I teach in my studio in Santa Fe, New Mexico, in the west, Europe and Australia. I am looking forward to teaching at Art and Soul in Virginia Beach next year.
How did you get into teaching?
I originally started teaching alternative printmaking techniques at the college level. I was developing transfer methods and my now co-author took a class from me. She was also using transfer techniques in her work and so we decided to do a book together. We are now working on our fourth book. As a result of all this experimenting I began to teach many of the techniques that we developed.
How has teaching impacted or affected your sense of a creative community, or tribe?

As a result of teaching around the globe I see how art can bring together people of many different cultures and styles. It is the creative process, not the finished product, that ties us all together. I find this awesome and I know that wherever I go there will be tribal members.
How is the teaching process a creative one in itself?
Every class is different. I pay attention to the group energy and go at the pace they feel comfortable with. It is always a creative endeavor to keep everyone engaged at some level. I also learn a lot from my students. Some have tried things differently and had interesting results and some will ask the obvious question that needs to be asked.
Is teaching your main job, or do you have another occupation?
Painting is my main career. I have 5 galleries that represent my work and I sell with the Santa Fe Society of Artists. Living in one of the biggest art markets in the country has its advantages. We get visitors from all over the world that come for our art, culture and blue skies. Writing books and making videos come next and I have only so much time to teach. I really enjoy sharing all the things I learn and seeing everyone having a great time making art.
Thank you, Sandra, for sharing your beautiful work and creative insights with us! For more information on Sandra's art, visit her website at www.sandraduranwilson.com, and see her blog at www.sandraduranwilson.blogspot.com. To find out more about her Art & Soul classes, visit Art & Soul, where you can also see a short video about her workshops (and swoon—as I did—at her studio!).