Tea Dyed Tag Card
27 Tuesday Nov 2012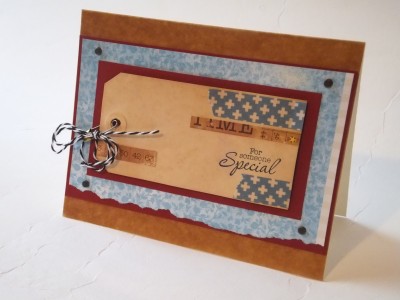 Last week I was working on projects for my column in the British magazine Crafts Beautiful. That particular column is on Tea Dyeing (not Tea Dying, which would be tragic and really gets my inner editor all riled up). Anyway, I made an extra card, so I thought I'd show it here.
About tea dyeing: It's a classic technique—easy, inexpensive, and a really good way to get an aged effect. I love doing it because it's one of those fail-proof things that always give interesting results.
Depending on the type of tea you brew (black, green, fruit) and the length of time you let the paper soak, you'll get a variety of shades. I'll brew up my tea in the evening and let the paper soak overnight—by morning, my paper will be ready to dry and use. It's best to use sturdy papers, like manila tags or watercolor paper.
Tea dyeing basics:
1) Place two tea bags in a mug and fill halfway with hot water. Steep for a few minutes. Squeeze the tea bags, then remove.
2) Pour the tea into a shallow pan. Place your paper in the water and let it soak for a few hours or overnight.
3) Remove the paper and pat dry with paper towel.
Note: You can shorten the soaking time if you use a lot more tea bags–say, 20, in one brew. But I actually like to drink tea so that seems a little wasteful to me. However, it's a great way to use any "exotic" flavored tea you might have bought but didn't like!
About the card:
The card front is covered with Crunchy Waxed Kraft Paper from Paper Artsy. This material is new to me, so I'm experimenting with it. I actually prefer it crumpled up to give some texture, but it makes a nice background because it has a really unique feel whether its crumpled or not.
A piece of blue patterned paper from Authentique is matted on red cardstock, embellished with brass brads and added to the card front.
I dyed the manila tag with black tea, then stamped it with a Hot Off The Press sentiment and added washi tape and strips of cut patterned paper. A little black and white baker's twine and a safety pin are put through the hole in the tag.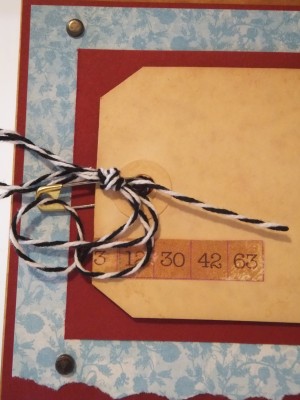 Enjoy!