Wednesday Art Journaling Question
24 Wednesday Oct 2012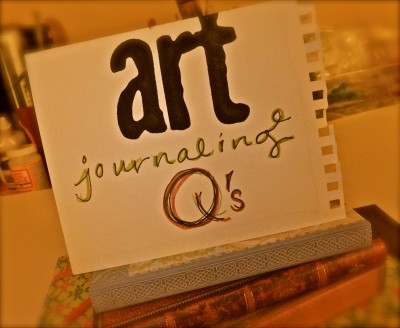 Yesterday I felt like I kind of got hit by a pile of bricks, and kind of like I made a breakthrough. Bang.
Here's the thing: I was listening to Christina Morassi's Find Your Ecstatic Brand online classes. The series is for people building a business, but I think the info is just as valuable for non-business people. Now, when you click on the link, be aware that the video starts right up…and her delivery style is pretty shazamm-y, if you know what I mean. And while I would never describe myself as even remotely close to shazamm-y, I find I really love her style. It's like seeing a dress that you know doesn't suit you, but really suits your friend.
Anyway.
The Part 2 video was what got me—straight off, she starts talking about visibility, and instantly I'm like oh, this is going to be something to journal about. So last night I sat down with my art journal and asked myself, "What are my thoughts on the idea of visibility?"
You know, I never really thought about it before…but Christina's comment to "step out of hiding" and make oneself visible really got my attention. Whether you're an artist or a businessperson or sell washing machines or whatever…when you're a person, you will at some point deal with visibility issues. Maybe sometimes you feel invisible, maybe you feel too visible. I think almost every day, we feel some kind of combination of the two. We want to be noticed, but for the right things…and we don't want others to see us stumble, or fall.
The tough part is, of course, that visibility is such a double-edged sword. It makes you vulnerable—to criticism, both from others and yourself—and yet, there's a power in being vulnerable and moving through things that scare you. And on a practical level, you'll never connect with others if they don't know you're out there.
And wouldn't you know, as I was waving to the camera like a loon, the neighbor passed by my window. Visibility, indeed.
Happy Wednesday!