Wednesday Art Journaling Question
19 Wednesday Sep 2012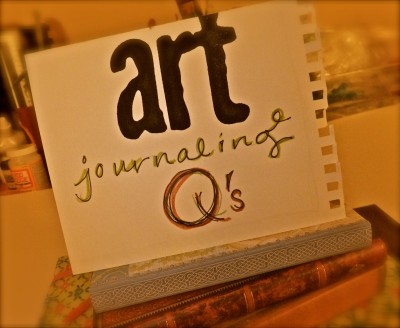 A new blog series, yay! Every Wednesday, I'll share a weekly art journaling question and my own pages. I hope you'll join me!
In my journaling exploration, I'm realizing just how many amazing (free!) resources there are out there to prompt our creativity. This week's question was inspired by Laura Hollick, who is an artist and shaman and owner of Soul Art Studio. It's kind of tricky to describe what she does, so you should definitely check out her website because her work is really pretty amazing. You might also sign up for her email newsletter, where she shares a lot of short, thought-provoking videos like this one, which is where my inspiration came from in the first place.
Anyway! The journaling question is:
What makes me wealthy? 
Here's the art journaling page I did: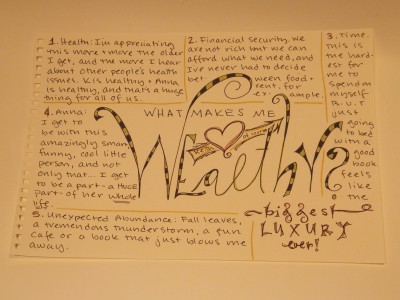 (But, wait! I want to just mention a little something about this page…)—
Although I'm a lifelong journaler, I am relatively new to art journaling. This means that:
1) I start writing about/thinking/musing about questions in my writing journal. This is where, every morning, I do three pages of longhand writing, and this is the place where I first answered this question. I make art journaling pages for the questions I want to muse on more.
2) My art journal for these questions is not a journal, it's loose pages. This is only because I randomly tore the page out of a pad of paper, started journaling, then thought "what the heck am I doing?" and decided I could bind the pages together myself later.
3) I feel a bit torn showing this page, because I don't think it's the greatest design and I don't like showing things I'm not 100% proud of. While attempting to "fix" the part I don't like, I heard this perky little voice saying "there are no mistakes in art journaling!" to which I was like, "there's one right here in the middle of the page, are you blind?". And the more I tried to fix it, the worse it got.
4) The mistake I made was in forgetting to mention my husband in my listing of all things that make me wealthy. I mean, I talk about fall leaves but forget my husband?!? (Insert sinking suspicion that I'm a terrible wife.) This is why I tried to cramp him into the heart in the center of the page and ended up making it look awful. Nice. BUT, it also made me think that I'm pretty lucky to have someone who is so consistently great that I kind of take him for granted…and that I should probably tell him how wealthy he makes me, in person.
5) What I do like—I like my lettering, surprisingly…and that I didn't do it in pencil first. I like the stripey bits on the letters, too—they make me think of Alice in Wonderland (why is that?). And I like that I did this all pretty quickly, because if it took ages I probably wouldn't want to do it so often. I even like the loose page part of it…sort of really like that, actually.
And I like that it is entirely my style—my mistakes and all.
Anyway. Go journal. Think about what makes you feel wealthy. Remember, there are no mistakes in art journaling. (But there might be some surprising realizations that pop up!) And don't forget the key people. 🙂
Happy Wednesday!