Wednesday Tutorial: Simple Strips Card
18 Wednesday Jul 2012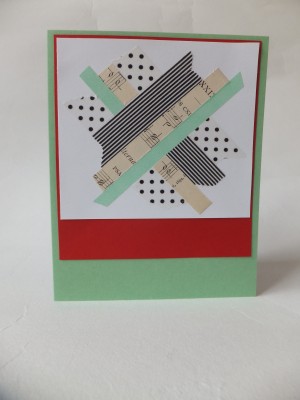 One of my fail-proof card layouts is this simple strip design. I love it because it's super-easy to do, you can incorporate washi tape, scrapbook paper, text paper…just about any of your paper scraps will do!
One thing about washi tape: It's a masking tape, which means that it sticks, but isn't really reliable long-term. Since one of my greatest fears is to send someone a card that falls apart shortly after they receive it, I like to use a touch of glue stick with my washi tape for added security.
I like alternating the washi tapes with book paper or sheet music because it adds a little different texture, plus I like the contrast between old paper and new tape! Note that some of the edges are cut, and some are torn. All of the strips range from ¼" to ½"-wide, which gives a nice visual balance and keeps the layout from looking too regular.
Supplies:
–       washi tape (black and white stripes, black and white dots, mint green)
–       glue stick
–       sheet music paper
–       white cardstock, red cardstock, green cardstock
1) Cut a 4 ¾"x3 ½" piece of white cardstock. Starting in the middle, glue a strip of sheet music paper diagonally. Place a piece of black and white stripe washi tape on one side and mint green washi tape on the other side as shown. Add more washi tape and sheet music strips on either side, running perpendicular.
2) Mat the piece on red cardstock, leaving a 1"-wide border at the bottom. Glue to the card front.
Once you try this layout, you'll realize how easy it is to make adjustments to suit your card size and color palette. I also like that since it's so simple, it can be used for just about any card occasion!
Enjoy…and happy Wednesday!
PS. I have a new column in Crafts Beautiful magazine called Mixed Media Clinic…the first column topic is on Washi Tape! If you live in the UK, you're probably really familiar with the magazine; those in the States can find it at Barnes & Noble.