Wednesday Update: Stitches Show
22 Wednesday Feb 2012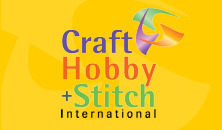 This weekend I went to the Stitch, Hobby & Craft trade show in Birmingham, England. (Otherwise known as Stitches.) This show is a great place to catch up with what's going on in the industry, talk to old friends and see what's coming up in the market. I was glad to see people like Leonie Pujol and Amy Shaw and Tim Holtz, Sara from Crafter's Companion and Leandra from PaperArtsy. I talked to stamp companies, magazine editors and (it seems!) everyone else!
(And although I was there in a professional capacity, I've now realized that I need—yes, need—Distress Paints and Distress Markers. And this Great Tape from USA Artquest, plus Paper Artsy's Metal Card, Cosmic Shimmer and one each of all the new templates out there. In my dreams!)
Trends? Glimmer and shimmer mists, lots of masks and templates and very cool coloring options, from the aforementioned Distress Pens to Pebeo paints used in jewelry. I saw a lot of silhouettes on fabrics, bold citrus colors (a lot of orange and white), and of course UK-themed items in time for the 2012 Olympics.
I also took a seminar on trends from the lovely Stephanie Weightman, who talked about the popularity of flowers and floral imagery this year, the colors blue and turquoise, lace, birds and the grunge look going pretty with light pinks and pastels. I thought she was spot-on with her observations.
The show was great fun, and of course, being in the UK was lovely as always…book shopping (English language books at normal prices, yay!), Marks & Spencer Simply Foods, and of course, rain rain rain. (Plus a little snow.)
It's good to be home, again, too, celebrating the very first birthday of Miss Anna!
Happy Wednesday!