Wednesday Update: Sunday Market Round Two
10 Thursday Nov 2011
Yipes, I was so busy yesterday planning my Found Poetry workshop for Creative Workshops that I didn't have time to blog! So now's my chance, while Anna is taking a nap (well, sort of…I can hear her talking to her stuffed animal collection).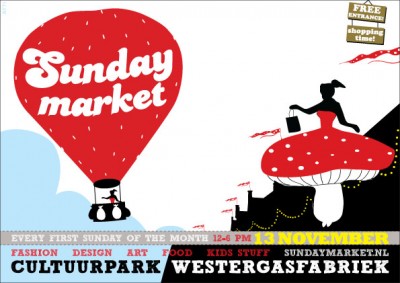 This Sunday is the Sunday Market at the Westergasfabriek; it's my second time exhibiting there, and I think I'm getting a bit better with display for my stand. I actually have quite a lot of space—the table is 6 1/2' long—which I've measured out on my couch so I can get an idea for what to put where and how many pieces to bring. Since I take two different trams to get to the market, I definitely don't want to bring a bunch of extra stuff.
I've been struggling with my necklace display. I tried a traditional necklace holder, like the kind you would keep your own pieces on, on a dresser or something. That holds all the necklaces, but doesn't really show them off. Then I thought to lay them flat on the table so people could see them. The downside there is that they can quickly get jostled and look messy.
So here's my next try: An old canvas I had done some (unsuccessful) gel transfers on, which I painted over with blue and white. I glued hemp twine around the top portion and clipped on these mini clothespins so I could drape the pieces over the clothespin. The necklaces aren't super-heavy, but I glued the clothespins to the canvas with E6000 so they stay stable. I'll add the price sign at the bottom right corner. The whole thing is perched on an inexpensive wooden easel from IKEA. I'm curious to see how it works in comparison to my other methods—I definitely like the way it looks much more.
And in the spirit of learning through experience, I've already packed my scissors and tape, both of which I completely forgot last time.
Fingers crossed for no rain this Sunday!