Hello! Yes, I know it's not Wednesday but since I'm headed to Create and Craft for a Kuretake show on Tuesday, I'd get a fun and easy project out to you today.
Wink of Luna is a metallic brush pen, and the nylon brush makes it really easy to add controlled amounts of metallic color, from thin lines to thick. (These are for you if you're into decorative lettering.) It's a water-based pigment ink of archival quality, so it's great for scrapbooking, mixed media and other art that you want to preserve for years to come. These metallic colors look wonderful on both light and dark colored papers! Best of all? I love them for stamping!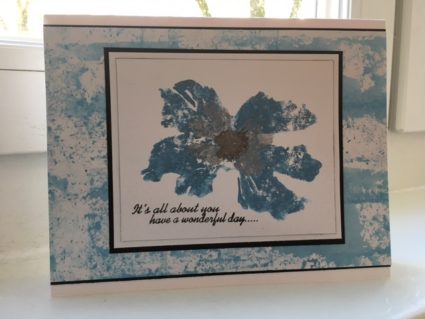 Because the brush tip can cover a lot of surface, I like to use them for "inking" up a stamp before stamping. You'll see this with the floral image. But the background? That's brayered ink. Sooo easy to do and such fun. Okay, let's get started.
Stamping with Wink of Luna, what you need—
Wink of Luna: Blue, Silver and Black
Stamps By Me stamp set: Perfect
Black stamping ink
White, black cardstock
Craft sheet
Water spritzer
Stamping with Wink of Luna, how to do it—
Use the Blue Wink of Stella to color the large silhouette flower. Spritz lightly with water, then stamp onto white cardstock. Repeat to color and stamp the smaller flower with Silver, and the flower center with Black. Use stamping ink to stamp the sentiment.
Trim the piece down and edge with black ink.
Mat on white, then black.
Scribble Blue Wink of Stella onto the craft sheet. Add a spritz of water, then roll the brayer through the watery medium and onto a piece of white cardstock. Let dry, then mat the top and bottom edges on black and glue to the card front.
Easy—fun, and a great technique for just about any card theme. Tip: When looking for stamps to color like this, opt for silhouette stamps rather than detail stamps—the results are more reliable.
Hope you can join us on Create and Craft for more demos and fun. The Kuretake show is on at 5:00 UK time. Look here for an easy way to figure out your time zone: