Happy Wednesday! A few weeks ago I shared how much I love my Screen Sensation, and showed a card I made with one of the designs on the Seed Pods screen…well, while making that card, I Screen Sensation-ed more prints so I had a fun stash to work with. Here's this week's card: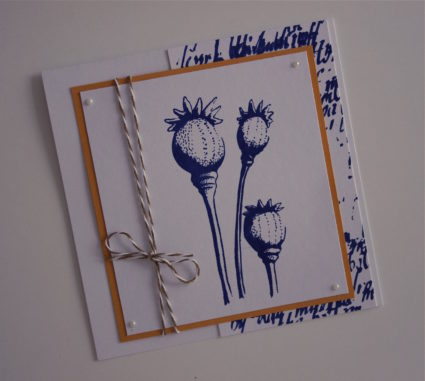 As a reminder, this is the screen I used: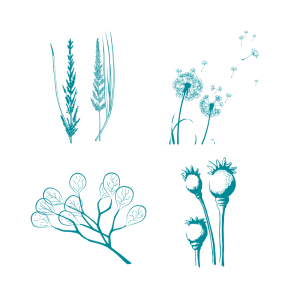 Screen Sensations Seed Pod Card, what you need—
Watercolor cardstock
Orange card
Tan baker's twine
Pearl accents
Square card blank
Screen Sensations Seed Pod Card, how to make it—
1. Tape the Seed Pods mesh design in the center of the frame, securing all four sides with tape. Slide your frame into the Screen Sensation.
2. Place your paper on the Screen Sensation, using the grid to align it. Tape it securely.
3. Apply ink to the top of the mesh design. Use the squeegee to pull the ink to the bottom. Note: The Seed Pods screen has four designs. You can either print all four designs, just the top two, or only the one you want. I always do more than one since I can save them for other cards.
4. Lift the Screen Sensation to reveal your print. Remove the print and set aside to dry; you can immediately replace the cardstock and make another print.
5. When you're done with the Seed Pods design, repeat the process with the Antique Script.
6. Glue a strip of the Antique Script design to the front of the card. Trim the seed pod image and mat on orange card, then wrap with tan twine. Glue overlapping the script border.
That's it…easy! And best of all, clean up is quick and simple since the components fit into a standard kitchen sink and can just be rinsed off and laid flat to dry.
Look for a complete article on screen printing with the Screen Sensation (see how I used the other designs on the Seed Pod screen) in the August issue of Crafts Beautiful magazine.
For more details on the Screen Sensation, you can visit their website. They have videos to step you through the process. I've just filmed one myself and will be posting it to my You Tube channel soon!
Happy Wednesday!