Monday Inspiration: Book Pages, Part Deux/Twee/Dos
11 Monday Jun 2012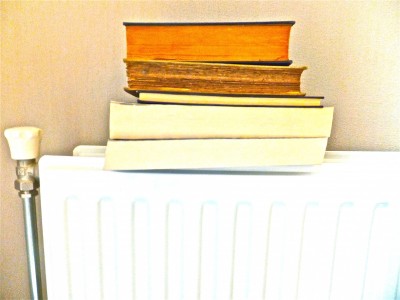 Along with rubber stamps, book paper is probably the material I use most in my work—whether that's a handmade card, collage or journal. I'll paint on it, write on it, stamp it, spray it, glue it and cut it apart. So of course I'm always on the lookout for books, especially books that have a little personality: Handwritten notes in the margins, dog-eared pages, battered covers. Books that have been loved and left.
(I don't only use these books for my artwork. Sometimes I just put them out on my coffee table, or on my book shelves because I like the way they look.)
When we first moved to Amsterdam, I discovered the flea markets and went totally nuts became a good customer. I was in heaven! Finally, after years of trawling through English-only books at thrift stores and library sales, I had my choice of books in foreign languages: Dutch, German, French, Italian…it was too much for this American to handle. So I ended up with quite a lot of books in a lot of different languages.
The issue, sometimes, is that I don't speak a lot of different languages.
But at the book market I found a French paperback novel with pages beautifully yellowed around the edges, debossed type that you could feel the on the paper, and chapter titles like "Mon Amour". It was gorgeous. So I was feeling pretty pleased when I showed it to the French husband of one of Keith's co-workers.
"What kind of art do you do?" he asked me.
Me: "Oh, collage, mixed-media, paper crafting…"
Him, casually: "Is it erotic art?"
Me (Instantly embarrassed, as evidenced by my flamingly red face…but still trying to be cavalier): "Um, no." Awkward pause. "Why?"
Him: "Because this is a famously erotic novel."
Me: "  "
Okay, I actually don't remember what I said at this point because I think I was desperately trying to act casual about the whole thing but this, my friends, is where the Americans and French are just different. He saw nothing strange or unusual, whereas I was speechless and horrified. I was also pre-horrified, just imagining myself merrily including sheets of saucy French papers in my class kits—it would just be my luck to have a class full of French-speaking nuns, or something.
So when I make comments about looking for "non-offensive" text paper, this is why.
Happy Monday! May all your potentially embarrassing moments be averted!