Monday: Studio Snapshots
17 Monday Dec 2012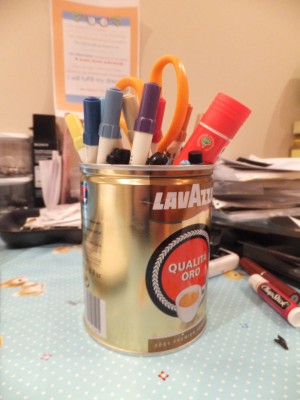 This week I'm starting Mondays with a new series called Studio Snapshots. These are little peeks into my (admittedly messy) studio, where I share small, not-earth-shattering-but probably-helpful tips on how I stay organized. Hope you enjoy!
Hmmm, you might say: A coffee can filled with pens. Not terribly exciting. But I love the portability of this. The coffee can holds all of my pens for art journaling, plus scissors and a glue stick. Because I work so often in my studio, I like to do my art journaling upstairs at the dining room table instead. It gives me a fresh perspective and gets me out of this room (where I would stay all the time if I could!). The great thing is that I can just grab my journal and my coffee can and I'm set…no digging around or searching for stuff. Just grab and go!
Happy Monday!
PS. Today we're on leg two of our journey from Gdansk to Amsterdam to Oregon. This portion of the trip is a 10-hour flight plus a two-hour drive and I am hoping it goes by quickly and without trauma/stress/too many dirty nappies/meltdowns (by any of us). Wish us luck!