Monday What's on My Desk
01 Monday Oct 2012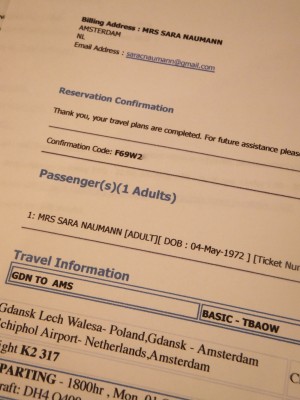 Amid assorted partially-painted papers, a pile of magazines and some random ink cartridges, this is on my desk today: My travel itinerary! I'm headed to Portland for Art & Soul, via Amsterdam (with just enough time at Schiphol Airport to feel that little pang of wishing you could stay somewhere just a tiny bit longer).
Do you notice where it says: Passenger(s) (1 Adults)? Yes, it will be a total luxury to get on a plane without having to entertain a wiggly toddler…but I will miss Miss A like the devil.
Onward—maybe I'll see you in Portland!
Happy Monday!