Photo Friday: Gdansk, Poland…Our New Home!
24 Friday Aug 2012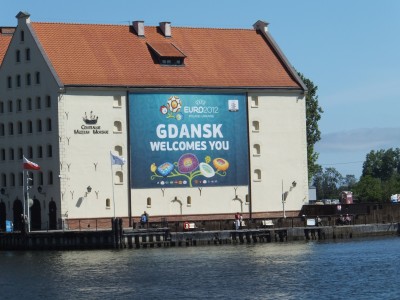 This Photo Friday will have a couple of photos…of Gdansk, Poland, our new home for two years!
(The giant billboard was not, unfortunately, for us, but we took it as a good sign when we went to check things out earlier this summer.)
Here's how it went: Keith's employer asked if he would be willing to relocate to Munich or Poland. Well, we knew Munich would be a lovely place to live, but neither of us had been to Poland. So when Keith was offered the job, we had to quickly check out the city of Gdansk to see if we could bear leaving Amsterdam.
Leaving Amsterdam is the hardest part…but look, we can still see Dutch-style architecture:
We went again to Gdansk last week to look at places to live. Things weren't looking so good (major understatement) until literally a few hours before our flight back home, when the relocation agent called and said, "I have one place that's not listed yet, but I think you might like it…"
It's close to the ocean, the forest and the farmer's market. (Pics of the house—100 years old!—to come later.)
The area where we'll live is called Sopot, and it's nicknamed The Polish Riviera. We are not really posh enough for any Riviera scene, but it means we're close to the sea.
There's also a lot of rich history and beautiful surroundings…
More photos to come, I'm sure…and please keep your fingers crossed that 1) all of our furniture, clothes, toys and books (and art supplies!) are shipped safe and sound; and 2) that September 3 is a good day for flying…that's our official move date.
Happy Friday!