{Project Wednesday}: 10 Tricks for Kids' Crafting
20 Wednesday Mar 2013
I live in Poland, where the current temperature is -4 degrees. Yes, minus four. Yesterday it snowed from breakfast to dinnertime; add in strong winds and you have zero motivation for going outside with a two-year-old. (Getting a two-year-old dressed for going out in a snowstorm is it's own post.) The solution? A day of card making, of course.
Anna is mad about stickers, crayons and glue, and she's fascinated with "Mama's Room" (aka, my studio) since it's full of intriguing papers, colorful paints, cups of pens and pencils and drawers just waiting to be opened. So yesterday we spent the day in Mama's Room, making cards.
We do this regularly enough that I've figured a few Mama tricks:
Trick one is to stash away any toddler-unfriendly items. Ice Resin goes in the closet. So do my work projects or anything so precious or rare that I don't want to sacrifice to the cause. Caps are on tightly, so even if she does want to hold a paint bottle, there's no risk of a spill. The last thing I want is to go around whisking away things as she asks for them, or constantly saying "no". I want her to feel that art tools and supplies are accessible and fun, which involves a little pre-planning on my part! Note: I have snub-nose scissors so I can cut things for Anna, and I've explained to her what they are and why only Mama uses them. She is not interested in them at all.
Trick two is to cover the floor with flip-chart paper. You know, those giant easel pads you can get at the office store? They're huge and inexpensive, so I tape down a few sheets and my (rental-house) floor is protected. For painting sessions, someone suggested doing the same with a shower curtain, which I think is brilliant.
Trick three is to have easy access to all the things she can use. I have a big box of paper scraps, small stamps and ribbons that she can use as she wishes. I have now invested in inkpads for kids—my regular inkpads aren't all washable, but can still be used, of course. Other things, like punches, she can also use but asks me for help. Note: A smock or old t-shirt lessens Mama's stress level a little, too!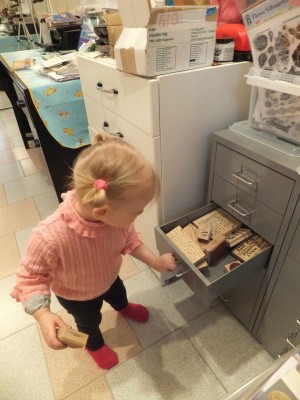 Trick four is to participate. Obviously leaving a toddler with an inkpad is a very bad idea, even just to check email for five seconds because you know you will turn around to find a cute little handprint in a place it shouldn't be. But it's also more fun to create with two. She asks me to cut things out, and chooses paper that I fold into card bases. We chat and sing and sometimes stop for a cuddle break.
Trick five is to relinquish control. She is two. She is not into design elements, innovative techniques or composition. She can't read, so the "Happy Valentine's Day" sticker may be off-season but she likes the heart, so on it goes. She puts circus paper and a bumblebee stamp together. Some elements are upside down. Her card doesn't go in any discernible direction. I conscientiously withhold "suggestions". This is not an art competition.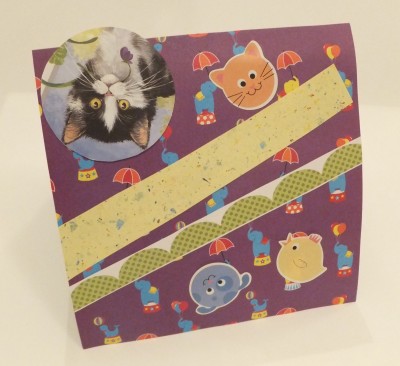 Trick six is to embrace the learning. When she peels stickers off the liner, she's developing fine motor skills, even if some of them tear a little. When she chooses a paper, we talk about the colors, patterns and textures. With animal stickers or cut-outs, we discuss what those animals do, or sound like. It's an awesome opportunity for learning, so we take advantage of it!
Trick seven is to not push it. Anna loves doing art, so this is a natural way for us to spend a day. (Nap and lunch/snack times excluded!) Some things used to be frustrating for her, or too difficult, so we saved them to try again later. She also used to be afraid of glue sticks and tape, so she would tell me where to attach things with glue or tape. Now she's over her fear and will glue, tape and stick like crazy. We just give it time. Note: I will add there are times when she surprises me with her abilities and does things I assumed she couldn't.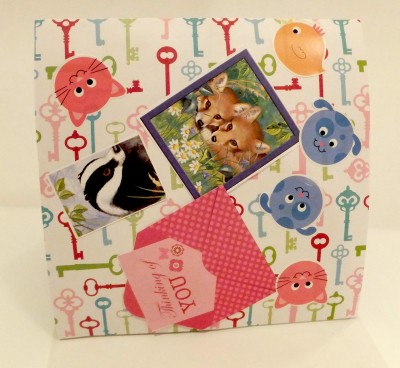 Trick eight is to to make it okay not to finish. We move from stickers to stamping to examining ribbons to organizing buttons to singing a song to stopping for a snack and by the end of the session we have completely covered the floor and have lots of partially-done art. That's fine—there is no deadline.
Trick nine is to clean up. I am a total hypocrite for saying this, since I often do not clean up my own art projects! But we do pick up Anna's things, keeping projects and pieces in little folders and putting supplies back where they belong.
Trick ten is to make someone happy with her completed art. We frequently give her cards to her babysitter and to her papa, and they both make a giant fuss and everyone feels good. We mail cards as thank-yous for gifts and "just because" to grandparents in America. We tape decorated Easter eggs on the windows and look at them when we come and go.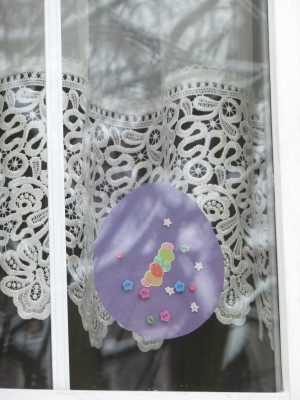 Do you have any tips for crafting with kids? I'd love to hear!
Happy Wednesday!