{Project} Wednesday: Bubble Wrap Heart
22 Wednesday May 2013
This week's project is a recycled one—just like the bubble wrap I used to make it!
I originally designed this for the August 2012 issue of Crafts Beautiful, a UK crafting magazine. If you're like me, you can still get inspired by last year's designs, so I thought I'd share it here.
It's one of my favorite cards, because it's so easy to do and the design is so simple. Also, it's not perfect, which makes it even nicer.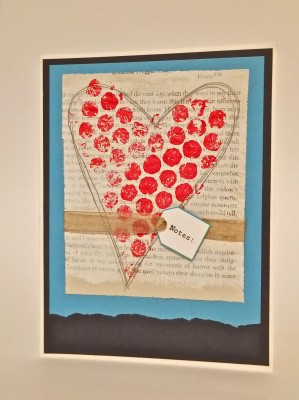 About Bubble Wrap
Bubble wrap is smooth on one side and bubbly on the other. All you need to do is apply paint or ink on the bubbly side, then turn it over and press it onto your paper—just like a stamp!
Save your bubble wrap from the next package you get; you can also buy it at the post office. Even better, you can re-use it for several stampings. Just clean it with a damp baby wipe, let it dry and add more ink or paint for another go. As you use it, some of the bubbles may "burst", giving you an imperfect—but still unique—pattern.
 Stamping a Bubble Wrap Shape: Heart Notes
1) Paint a light coat of white acrylic on a page pulled from a book, then let dry. Cut a piece of bubble wrap in the shape of a heart. Apply red acrylic paint sparingly onto the bubble wrap. The trick is to get paint on the bubbly parts but not glopping in between. Turn over and stamp onto the painted book page. Let dry, then trace a loose outline around the heart with pencil.
2) Trim the book paper to 4 3/4″ x 3 3/4″. Stamp "notes" on a piece of white cardstock, then cut into a tag shape. Mat on teal cardstock and punch a hole wide enough to slide the sheer ribbon through. Wrap the ribbon around the book page, securing at the back with clear tape.
3) Mat the book paper onto teal cardstock and tear the bottom edge. Make a 6 1/2″ x 5″ blank white card; cut a piece of black cardstock slightly smaller than the card front and glue to the center. Attach the focal piece.
Supplies
• Bubble wrap
• White acrylic paint (Titanium White)
• Red acrylic paint (Naphthol Red Deep), paintbrush
• Inkpads: Versafine Onyx Black
• Stamps: Notes (Hot Off The Press Journaling)
• Sheer tan ribbon
• Cardstock: Teal, white, black
• Book page
• Pencil
• Glue stick, clear tape
• Awl or small hole punch
Happy Wednesday!