{Project} Wednesday: Card Making with Peel Off Stickers & Distress Markers
04 Wednesday Dec 2013
Today on Studio SN on You Tube: Card Making with Peel Off Stickers and Distress Markers.
Whew, that's a long title!
And I should add: Also with Glossy Accents and Shimmer Sheetz. And ribbon and cardstock. And glitter.
Surprisingly, even with all of this—the card design is pretty minimalist. Take a look: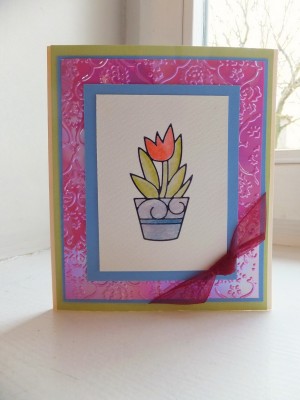 Here's what you need:
– Tulip peel-off sticker: Flowers in Pot # 0356 (Elizabeth Craft)
– Shimmer Sheetz in pink: 21 Color Sampler (Elizabeth Craft) Note: You can also get a similar color that has an iridescent sheen if you use the Pink Iris Shimmer Sheetz.
– Distress Markers: Peeled Paint, Stormy Sky, Faded Jeans, Barn Door (Ranger)
– Glossy Accents: Ranger
– Watercolor paper: Fabriano Postcard
– Textile Tapestry embossing plate from Cuttlebug
– Crystal Fine Clear Glitter: Martha Stewart
– Sheer burgundy ribbon
– Water spritzer, tissue
– Small dry paintbrush
– Blank card
Here's how to do it:
1) Place the peel-off sticker on watercolor paper. Spritz lightly with water. Color the flower with Distress Markers: Barn Door on the flower petals, Peeled Paint for leaves, Stormy Sky for the flower pot, Faded Jeans for the stripe around the flower pot.
2) Spritz lightly and blot. Let dry.
3) Add a fine layer of Glossy Accents to the entire sticker. While it's still wet, sprinkle with fine glitter. Tap off excess glitter and when dry, brush off excess glitter with a dry brush.
4) Mat the piece on blue cardstock. Emboss a piece of pink Shimmer Sheetz with the Textile Tapestry and glue the focal piece in the center. Mat on blue cardstock. Tie a knot in a piece of sheer ribbon and wrap around the bottom corner. Mat again on green cardstock and glue to the card front.
Want to see me demonstrate? Then pop on by Studio SN on You Tube! I'd love to see you there!