{Project} Wednesday: Faber-Castell Gelatos and Embossing Paste
19 Wednesday Feb 2014
Today on Studio SN: Faber-Castell Gelatos and Embossing Paste!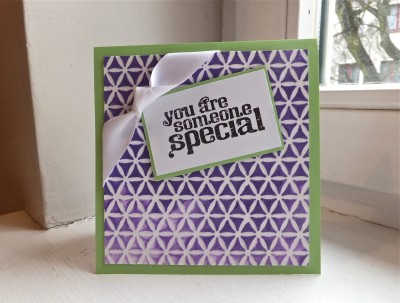 Embossing paste is a great medium to use with stencils—it gives texture and dimension without adding bulk, and it can be altered, too. This week I'm giving my white embossing paste a touch of color with Faber-Castell's Gelatos. This is where the fun starts…I bet your imagination takes off as you start thinking about other colors and stencils you can use for this technique!
So, here's what you need:
– Wendy Vecchi White Embossing Paste, available at Paper Wishes
– Grape Gelato pigment stick from Faber-Castell
– Kaleidoscope stencil from The Crafter's Workshop
– Stencil or masking tape
– HPXT03EZ stamp set from Paper Artsy
– White grosgrain ribbon
– Green cardstock, white cardstock
– Black inkpad
– Foam tape
– Palette knife
– Craft sheet or plastic palette
Here's how to do it:
1. Tape the stencil on top of white cardstock.
2. Use the palette knife to shave off a bit of the Grape Gelato stick onto the craft sheet or palette. Mix with white embossing paste until thoroughly blended.
3. Use the palette knife to spread the colored embossing paste on top. Lift off the stencil when you're done, then clean your stencil immediately.
4. Let the stenciled cardstock dry, then cut to a 5″ square. Tie a knot in a piece of white grosgrain ribbon and wrap around the corner. Glue to a 5 1/2″ square card base.
5. Stamp the sentiment with black ink on white cardstock, then mat on green and foam-tape to the card front.
That's it—easy! Now just imagine how many different colors of embossing paste you could concoct with all those fabulous Gelato colors. And all the different looks you can get with your different stencils. If you're like me, you're going to be busy with this for a while!
And if you'd like to see another twist on the embossing paste/stenciling technique, check out this video, which has a completely different look!
Happy Wednesday!