{Project} Wednesday: Gelato Embossed Card
03 Wednesday Apr 2013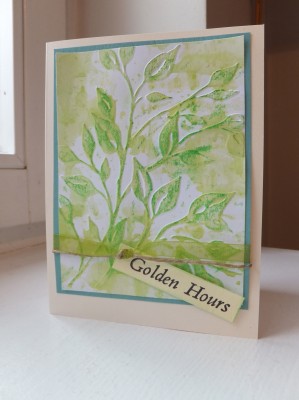 My big yummy box of Gelatos has been out on my work table for a couple of weeks now since I've been working on my Cardmaking Techniques with Gelatos e-book. (Coming soon!) I wanted to make my mother a card last week so of course the Gelatos were the first thing I grabbed.
(Funny how we tend to use the supplies we have right in front of us, isn't it?)
This card was super-simple to make. Here's how:
Materials:
– Stamps: ESN05 from Paper Artsy
– Embossing machine (I used a Cuttlebug) and Leafy Branch embossing plate from ProvoCraft
– White smooth cardstock
– Blue-green cardstock, cream cardstock
– Lime, Green Tea Gelatos (Green set) from Faber-Castell
– Black Archival ink (Ranger)
– Sheer ribbon, twine
– Water spritzer, baby wipe, paper towel
– Blank cream card
Instructions:
1. Emboss the white cardstock with the Leafy Branch embossing plate. Color the embossed areas with Green Tea Gelato. Spritz with water and allow the color to flood and run off the raised areas. Blot with a paper towel.
2. When dry, color the embossed leaves with Lime Gelato. Blend with a damp baby wipe.
3. When dry, mat onto blue-green cardstock. Place sheer ribbon and twine together and tie a knot. Wrap around the matted piece.
4. Stamp "golden hours" onto cream cardstock and trim. Edge with Lime Gelato and add to the card front as shown.
5. Adhere the piece to the card front.
Happy Wednesday!