{Project} Wednesday: How to Stamp with Embossing Paste
15 Wednesday Oct 2014
Today on Studio SN: How to Stamp with Embossing Paste!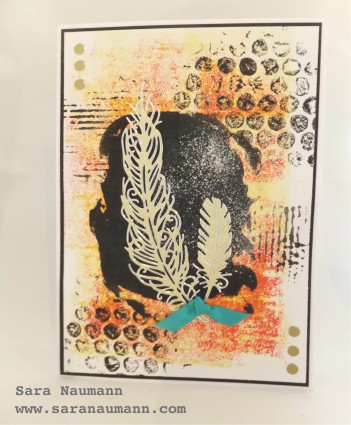 Wendy Vecchi's black embossing paste is probably one of my most swoon-worthy crafting supplies. I love how it looks against other colors: Crisp, clean, perfect black—it's a really effective contrast and offers fabulous texture, too!
This week we're stamping both into embossing paste and with the embossing paste for an easy layered effect.
What you'll need:
 Here's how to do it:
Brayer cardstock with Mustard Seed, then with Festive Berries.
Use the palette knife to spread the embossing paste in the center of the brayered piece. I found that a thinner layer was more effective for stamping. It gives you an easier surface for placing the feather stickers. It dries faster, too!
Stamp into the embossing paste with bubble wrap, then lift and stamp off the embossing paste at the top right and bottom left of the brayered piece.
Repeat with the java jacket.
Tap Perfect Pearls into the wet embossing paste.
Let dry, then add feather stickers in the center and three gold jewel Dazzles at the top left and bottom right.
Tie a knot in a piece of teal ribbon and glue to the bottom of the feathers.
Mount on black cardstock, then glue to the card front.
That's it! Bold, fresh color and lovely texture, too. Can you see why I'm just a little bit in love with this embossing paste?
On the dry time for the embossing paste: I usually give it a couple of hours to dry. That will depend of course on the thickness of your application and the humidity where you live.
Want to see a video tutorial on this project? Then pop by Studio SN on You Tube to watch the video on How to Stamp with Embossing Paste.
And if you like this technique, you might check out Mixed Media Made Easy—this DVD includes projects using embossing paste, plus many, many more techniques…100, in fact! Just $14.99, Mixed Media Made Easy is available now from Paper Wishes.