{Project} Wednesday: ICE Resin® Map Paper Card
29 Wednesday Jan 2014
Today over at Studio SN on You Tube: Resin-coated paper for cardmaking!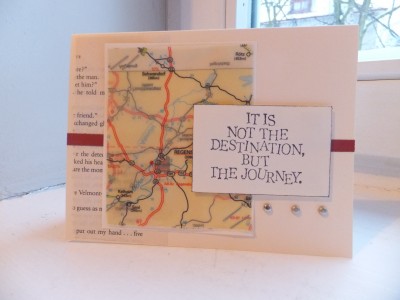 I am in love with ICE Resin® and use it on a ton of papercrafting projects. One of my favorite techniques is to use a snippet of the resin-coated paper as an accent on minimalist card designs—the resin gives a unique texture that you can play up or down, depending on your personal style. I love how it makes simple cards just a little more unique.
Here's what you need:
– ICE Resin® two-part epoxy, plus stir stick and measuring cups—all available from the very nice folks at ICE Resin
Note: You can buy ICE Resin® in 8oz or 1oz sizes. If you're new to it, you might start with the 1oz kit, which also measures out the proper mixture for you.
– Kitchen sponge
– Plastic/latex gloves
– Craft sheet (Ranger)
– Map paper (not the glossy coated paper, but porous paper)
– Stamp: Inkadinkadoo
– Book paper
– White cardstock, red cardstock
– Stapler, silver brads
– Foam tape
– Black inkpad
– Cream blank card
A note about your work surface: I use Ranger's craft sheet to protect my table because I can re-use it again and again—wet resin can be cleaned off with a baby wipe, and any dried resin drips can be scraped off with an old hotel key card. If you don't have a craft sheet, you can also cut apart a plastic garbage bag. One side of your paper will have a slight texture from the plastic bag (which may or may not concern you) and you will need to toss it when you're done.
Here's how to make the card:
1. Mix one ounce of resin epoxy according to the manufacturer instructions. Place the map paper on your craft sheet and dip the sponge into the resin. Work from the center of the map to the outer edges, spreading the resin with the sponge. When you've coated the front of the paper, flip it over and coat the back. Let dry.
Note: A one-ounce mixture of resin allows you to coat several pieces of paper—I keep a small pile on hand (and an extra craft sheet) so I can use up all of the resin I've made.
2. Tear a piece of book paper and glue it to the left side of a blank cream card. Glue a narrow strip of red cardstock horizontally across the card front.
3. Cut the resin paper to 3 3/4″ square. (You can use scissors or your paper trimmer.) Attach to a piece of white cardstock, securing with staples in the top left and bottom right corners.
4. Stamp the sentiment on white cardstock. Ink the edges and use foam tape to secure it to the card front. Insert three silver brads beneath the sentiment. Tip: If you don't like the brad legs showing on the inside of your card, you can line the card with paper to cover them, or substitute self-adhesive metal accents or stickers for the brads.
That's it—easy peasy! And you should have lots of resin-coated paper leftover from one session to incorporate into other papercrafting projects.
Want to watch the video tutorial? Then pop on by Studio SN on You Tube! See you there!