{Project} Wednesday: Reverse Stenciling Card
20 Thursday Jun 2013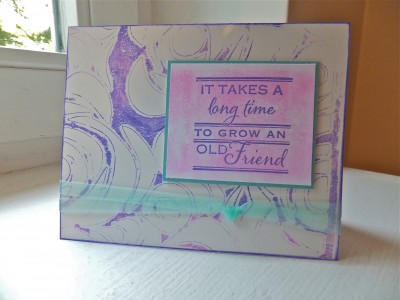 This week at Studio SN, I'm showing the first in a 3-part series on stencils—this is something I'm calling the Reverse Stenciling technique (though I'm sure someone, somewhere, has given it another name!). So if you're as stencil-addicted as I am, you'll want to also tune in for the next two segments. Inky, stencily fun!
This particular look is one I love because it gives the reverse image of a stencil's pattern. Instead of getting color through the open areas of the stencil, you capture the pattern that's on the plastic (or metal) part. It's absolutely ideal with pigment ink, because you need something that dries slowly. The stencil I'm using is Mini Echoes from The Crafter's Workshop, designed by Julie Fei-Fan Balzer.
Another bonus? Well, it always makes me happy to get another look from one of my tools.
Hope you can come on over to Studio SN on You Tube and check out the video!
PS. This post is, as you can see, a day late. Yesterday we arrived home in Poland from our trip to the US and desperately  needed a little catch-up time. We were all (including Anna No-Sleep Naumann) complete zombies!