Wednesday Art Journaling Question
15 Thursday Nov 2012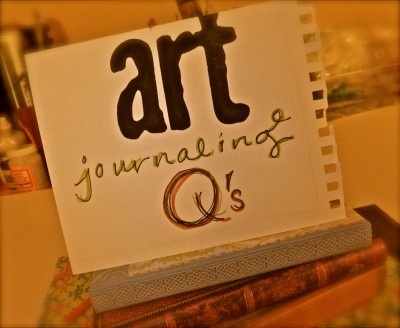 A day late, I'm afraid, and for Wishcasting Wednesday! Unfortunately, my regular Tuesday night art journaling session was postponed this week because of the worst stomach bug on the planet—the one that's currently taking over Poland, since apparently everyone has it. We can all suffer together, tak? Fortunately Anna did not have it, and neither did Keith as he headed off to Dublin on a 6am flight. And fortunately it was over in just one horrendous night. The next day, I felt completely fine.
Anyway, Wednesdays are for Wishcasting over at Jamie Ridler Studios (you know I am a giant Jamie fan) and I was unexpectedly taken aback by how much the question struck me. Sometimes questions come at the right time, and this one provoked an immediate response for me as I balance on the very edge of a whole lot of projects that are finally finding their way into reality. Lately I've been waking up each morning wondering what will come true today? and while this is a wonderful thing (wishes are coming true!) it can also feel a bit scary and overwhelming. I want to do it all, and right.
This week's question is: What do you wish to dare (or dare to wish)?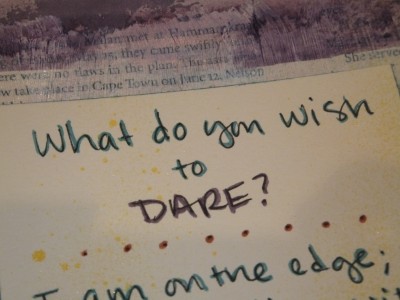 I went all out on this one: Text paper, pens, gesso, stains, paint…normally my art journaling is more minimalist, but that approach just didn't seem right for this topic.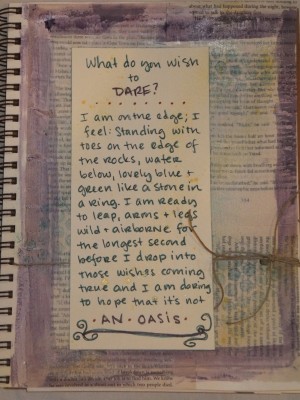 I wrote this somewhat frantically in my morning pages journal. I think those in the Kelly Rae Roberts Flying Lessons group probably understand what I'm talking about here. 🙂
I copied my original writing onto white cardstock—writing directly onto the painted/gessoed page proved a bit slippery. I outlined my black pen writing with blue marker, then sprayed the heck out of it with gold Glimmer Mist.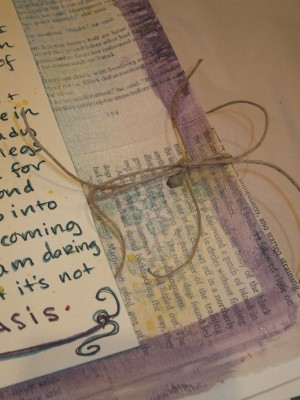 I also wrapped thin twine around the page, going through the hole in the spiral binding of the book. I wanted the texture, and more dimension, and also to hide a little blob of gold-gone-green spray at the side. This will impact what I journal on the back of the page, but it means I already have an element to get me started next time.
Hope you enjoyed—happy (and healthy!) Thursday to you!