Eclectica Monday: ESN04 Art Journal
26 Monday Aug 2013
Welcome to Eclectica Monday!
(Note: I worked with Paper Artsy to create a range of stamps. They're designed to be used for art journaling and cardmaking…and whatever else you can think of! In this blog series, I want to share a few project ideas for using the stamps. Today we'll explore with ESN04.)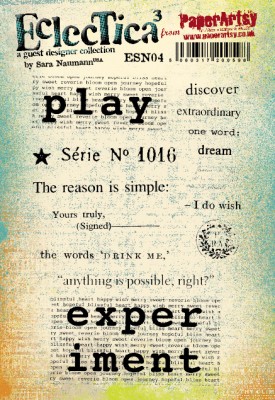 This is actually one of my favorite sets for cards (the "play" is great for birthdays) but I was doing some experimenting in my art journal so I thought I'd show you that.
This art journal is a watercolor book that's about 5 1/2″x8″. I like it because it's just the right size for experimenting with background techniques. This is not my journal journal—this book is strictly for trying new color combinations or inking techniques. This is where I do techniques, then write down what supplies I used so I don't forget. I'm not really trying to say anything illuminating on these pages, just mucking about.
I wanted to make a ghosted, but colorful background, so I was experimenting with Distress inks and white paint. Let me show you the process!
You'll need:
– ESN04 from Paper Artsy
– Distress inks in Barn Door and Peacock Feathers
– Water spritzer
– Snow Cap Acrylic paint dabber
– Black pen
– Red pen (I used DR7 from Spectrum Noir)
– Baby wipes
Here's what I did:
1) Squash the inkpads straight down onto the paper.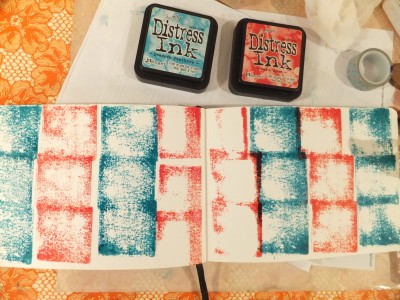 2) Spritz heavily with water.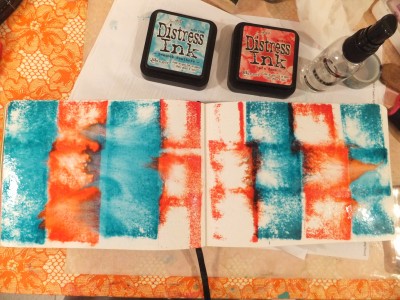 3) Blot with a baby wipe.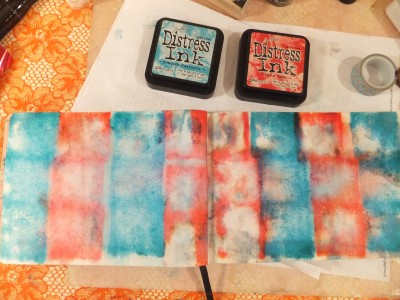 4) Let dry. Tap on dots of white paint with the dabber, then slide to streak the paint across the page.  Re-tap for more emphasis on just the dots. Let dry.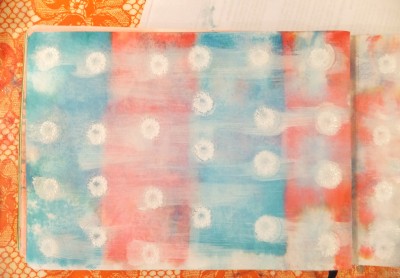 5) Stamp "experiment" in the center of one page and "play" in the center of the other. Add black penwork around the edges of the pages.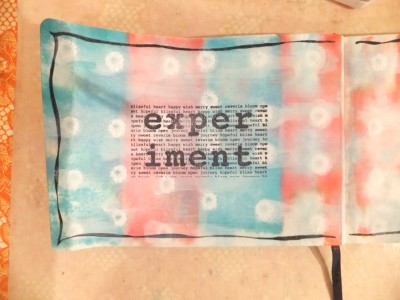 6) Draw loose boxes around each of the stamped words with red pen. Repeat to accent with black pen. Stamp "anything is possible" and "discover", then add your own journaling with black pen.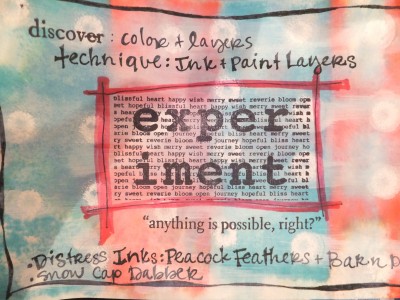 Here's the left side: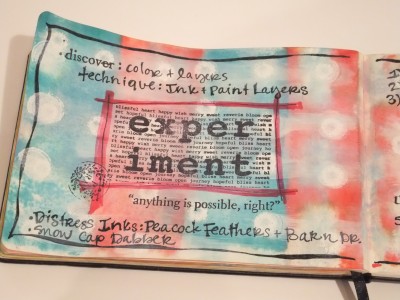 And the right side:
And the two together: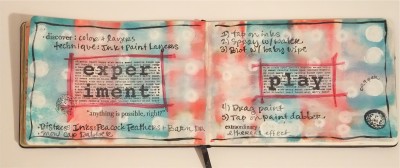 This is a great way of not only experimenting with a background, but also to see how a stamped image looks on top of the background, and which ink works best. For example, I love that little circle stamp at the bottom left of the word "experiment"—I can see that being part of a card or collage background.
It's also a great test place for pens, which sometimes work on top of a layered background and sometimes don't. The Spectrum Noir worked beautifully on both the painted and inked sections of the page. My black pen, however, faltered a bit, so I retraced my handwritten letters to be bolder. Now I have my technique plus all the details in my journal, ready for inspiration next time I'm stuck.
Oh, yes—the Eclectica stamps are available worldwide from Paper Artsy; if you're in the UK or Europe you can also find them at Paper Artsy retailers.
Happy Monday!