{Project} Wednesday: Simple Journal
06 Wednesday Mar 2013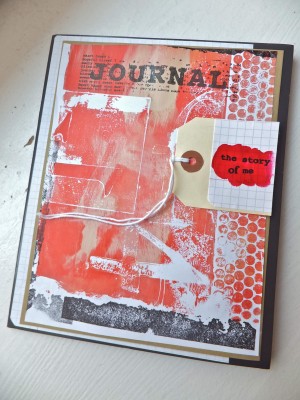 Earlier this week I got an email from a lady who had just started journaling and wanted to find sarabinders. Unfortunately, that line (produced by Hot Off The Press) is no longer available—it's actually been something like 5 years since they came out, my goodness. Anyway, it got me thinking about journals and decorating them….and then I came across a packet of very inexpensive lined notebooks in my stash. They have plain black covers and maybe 50 sheets of paper inside, stapled in the center. So they're super-functional and inexpensive but can easily be dressed up. Love it!
I first covered part of the notebook cover with lightweight grid paper. I have a lot of grid paper floating around. (Every Polish notebook I can find has grid paper inside; this is a mystery I need to sort out with a Polish person. Why don't they want lined paper?)
I also used a red paper I made in a Gelli Plate blitz session one weekend. I put red and tan acrylic paint on the gel plate, brayered it and used punchinella and letter stencils to make marks. Then I pressed a piece of printer paper on top, and lifted for this cool monoprint. Since I had made a lot of these papers, I have a big stash to use on projects like this.
I stamped the monoprinted paper with the Eclectica Journal stamp at the top, and stamped a border at the top, side and bottom. It's mounted on tan cardstock, then glued to the front of the notebook.
The tag is actually half a tag; I added more grid paper on top. Because the grid pattern would overwhelm a stamped phrase, I put a bit of red paint down and then stamped the phrase and added the tag to the front of the journal. I like having the string on the tag but you could remove it if you wanted.
All the stamps are from the ESN02 set from Paper Artsy. All the elements are adhered with glue stick (Pritt).
Happy Wednesday!