{Project} Wednesday: How to Use Oil Pastels
31 Wednesday Jul 2013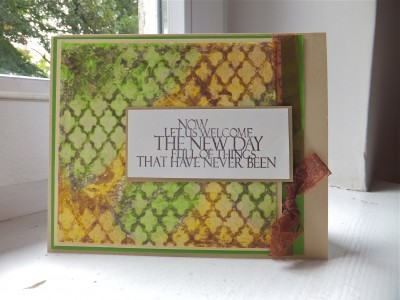 This week on Studio SN over at You Tube…Oil Pastel crayons for cardmaking!
This technique is really easy, and gives you a fantastic—and different—look every time. I'm using Portfolio Oil Pastels, the Quatrefoil stencil from The Crafter's Workshop, and the stamp is one I adore from Stampers Anonymous. You'll also need a heat tool, and baby wipes.
It's a twist on a technique called scraffito, which is where you scrape or scratch away the top layer of a color to reveal a contrasting color beneath. In this card, I first colored my paper with yellow and green oil pastels, then colored over it completely with violet. Then I placed the stencil on top and used a baby wipe to remove the violet, leaving the yellow and green to show through the stencil pattern. That's it! Super easy!
It's important that you heat-set the completed piece; this basically melts the oil pastel and sets it permanently. Zap it with a heat gun for a couple of minutes. You'll notice that the oil pastel color changes a little and becomes softer.
Want to see this a video demo of the technique? Pop on by Studio SN!
Happy Wednesday!