Wednesday Update: Random Pattern
23 Wednesday May 2012
Last weekend I prepped a bunch of painted pages for my Art Workshops by the Sea class—on the Sunday, we're going to do techniques like frottage, painting with bubble wrap, Vaseline resist, paper towel patterns and more. So I painted several pieces of paper to get the base coats down before adding the texture.
I was trying to work quickly (Anna was reluctantly napping) so I didn't clean my craft sheet in between pages…and when I got done, I saw I had this cool pattern! I absolutely love it, and immediately thought—"How can I do this same thing on a canvas or paper or otherwise 'for real'?" Of course it just wouldn't be the same as this spontaneous pattern, though…would it?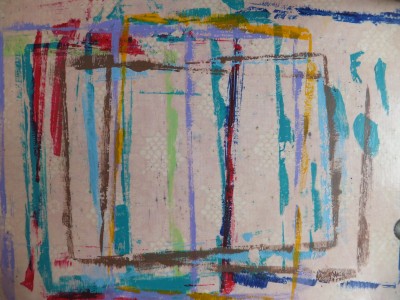 (The faint flower/geometric pattern you see showing through the craft sheet is the wildly-patterned Kitsch Kitchen oilcloth that covers my work table.)
Happy Wednesday…the sun is shining here in Amsterdam and I've had to dig through my closet to find something short-sleeved!