Want to Win a Free Class?
23 Monday Sep 2013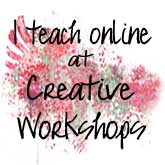 I am super super super excited to announce my brand-new online class, Art Journaling with Gelatos, starting October 8th. Woo-hoo! This has been a gigantic project (it's over 3 hours of video instruction) and my most detailed workshop to date.
(It's also my most revealing, in terms of journaling techniques, my personal creative practices and lots of in-depth techniques with Gelatos. It's a biggie!)
This workshop is available, like many of my other online classes, at Creative Workshops. 
Creative Workshops has also completed a big project—moving from one website host to another. This sounds like an easy thing to do but when you consider all those videos, files, documents and info…well, it was a lot of work for Gail, the owner. But now we're all moved and very glad to be in a newly revamped home. Yay!
To celebrate the move, many of the teachers (including me!) are getting together to give away a ton of classes via a blog party! Keep reading to find out more and see how you can win.
Never taken a class from Creative Workshops? Here's a little info—
All classes are available online 24/7 to fit your schedule. You can watch videos as often as you want, when you want. (On iPad, too!)
You get instant access with your receipt to any Open class you purchase.
All video content is available from the first day a class opens so you can work at your own pace.
Once a class opens there is no take-down date so there's no pressure to be done by a certain date. If a teacher must retire a class (very few do), you'll have 6 months notice.
I should say: As a teacher in this industry, I'm really proud to offer classes through Creative Workshops. I believe they offer an exceptional value and a really high level of customer service, two things I'm kind of (okay, really) picky about. Plus, they're just nice to work with.
You can also stay up-to-date on new classes, sales and other Creative Workshop news by newsletter subscription, blog subscription and Facebook.
Now to the Party Giveaways!
At the bottom of this post you will find a list of all our participating teachers, and the links to their blogs. Each teacher is giving away one of their classes for free to a lucky commenter!
You can follow the party trail from blog to blog, leaving a comment on each blog you visit, therefore increasing your chances of winning a free class from one of the teachers you leave a comment for.
Since I have multiple classes available, my free giveaway to the winning commenter is their choice of any one of the four classes I offer. Yep, you can choose from my October Art Journaling class, or Found Poetry, Lazertran or Cardmaking Techniques. It's up to you!
To win the opportunity for a free class from me you must leave a comment on this post and only this post. (It helps me keep track!) The party runs Sept. 23-Sept.29. I'll use a random number generator to choose the lucky winner and announce the name Monday, Sept 30.
Once you leave your comment on my post, be sure to hop to the next blog on the list and leave a comment on their blog post, entering into their drawing. Each blog will have this list so you can move through the party leaving your trails of comments everywhere and increasing your chances of a FREE CLASS! (Yes, you could possibly win more than one!)
Come visit us! Oh, yes—be sure to tell your friends, too!
Enjoy…and good luck!